Pastor Ken Berve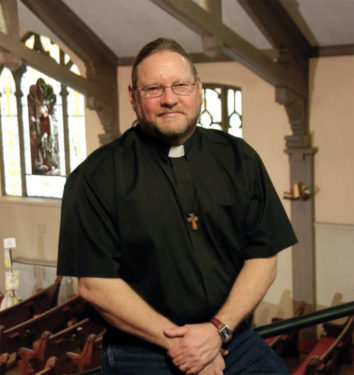 From our experience so far and the people we have had the pleasure to meet, I think "Home" is a perfect name for the church in Rye! Everyone we have met has been warm and welcoming.
For the last nine years I have had the pleasure to serve as Pastor of Grant Avenue UMC in Denver, and as the Executive Director of Historic Grant Avenue, the community center that shares their building. It has been a rich and inspiring experience.
In my past life I have been a Rock musician, professional cook, and a journeyman plumber, until I heard the call to ministry in 2008. In 2016 I graduated the Course of Study from Claremont School of Theology. Judy has worked as an administrator for Aurora Public Schools for 20 years and loves doing arts and crafts, especially sewing, in her free time.
Judy and I are both native Coloradoans who have raised our combined family of kids and grandkids in the Denver area, but love our home state and have spent our lives traveling, camping, and hiking all over Colorado.
We feel very blessed and look forward to making Rye our new "home" as we get to know and serve all of our new neighbors as well as the whole Greenhorn Valley!
Grace and Peace,
Pastor Ken
---
Church History
Sara Williams brought the first Bible to the area in 1868 and she "willingly shared it anytime a gathering occurred." Circuit riders traveled the countryside meeting in homes to preach and share welcome news.
In 1873, Father Clark of the Baptist faith began building a church at the foot of the eastern slope of Rattlesnake Hill. The Baptists' funds ran out, but the settlers needed a place to gather and wanted a schoolhouse. Although of different religious faiths, they cooperated in 1874, when the "first church and school were built about a mile south of the current town of Rye at the top of a hill on the Rock (Stone) Place."
The small community questioned how many churches they needed and voted for one, the Methodist Episcopal Church South. By 1880 the church officially become Home United Methodist Church of Rye and merged the Methodist, Evangelical, and United Churches. It was commonly called Rye Home Church.
– From Faith and Apron Strings: Stories and Recipes from Beneath the Greenhorn Mountains